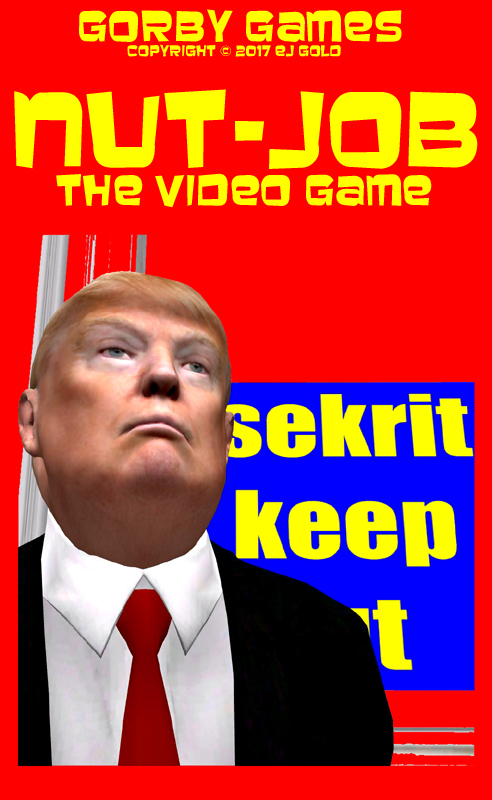 Here's what you do: find a slogan, meme, phrase, buzzword that is instantly recognizable and is currently trending, hash-tagging and flying about the internet on the social media.
The business team has a "spotter" who watches the news channels and finds a topic o' the day, and in addition, monitors the hashtags to spot the trending phrases.
Your building team now comes into play, using the formula of the Magic Phrase that you decided to focus on today. Here's what they should come up with:
NUT-JOB THE VIDEOGAME — An original video game that covers the subject or not.
NUT-JOB THE BOOK — can be comedy, sci-fi, history, novelized history, fiction, etc.
NUT-JOB THE FOOD ITEM — A can of nuts re-labeled. Nuts are exempted from most county food regulations, but not all nuts, so be advised, check before selling.
NUT-JOB THE COMIC BOOK CHARACTER — Start a comic book either printed or in download format or both.
NUT-JOB THE CLOWN — Do magic for birthday parties & bar-mitzvahs!
NUT-JOB THE NUTCRACKER — Merely repackage a wholesale nutcracker.
NUT-JOB THE WINDOW-WASHER — Use the name for your home business.
NUT-JOB THE MUG — Make a graphic and put it on thousands of items on Cafe Press.
NUT-JOB THE MOVIE — Make a machinima and title it "Nut-Job" and post it on youtube with one of our soundtracks — be sure to make it go viral, why waste the effort???
NUT-JOB THE BOARD GAME — A variant of Monopoly among thousands of similar variants, but this one is different. This one is YOURS.
NUT-JOB COPPER RING — A custom copper ring with a hardware nut as its stone.
NUT-JOB EARRINGS — A pair of earrings made with hardware nuts.
NUT-JOB BRACELET — A bracelet made with hardware nuts.
NUT-JOB NECKLACE — A necklace made with hardware nuts.
NUT-JOB UNDERWEAR — Create your own brand label. Use Cafe Press to fulfill orders. Thongs will also work here.
NUT-JOB MAKEUP — Crazy makeup set that produces that "Apres-Vie" Look.
NUT-JOB PEANUT BUTTER — Relabel a jar — it's political satire, and it's a novelty item, but it IS food, so DO check the law before you take action relabeling any food product.
NUT-JOB JAR OPENER — Brand your own jar openers — you can make them from rubber pads.
NUT-JOB NAPOLEON HAT — Easy to obtain wholesale from costume makers.
There are a million more ideas that you could tap into in order to exploit this or any other news item that is currently "hot" or trending.
Remember that your marketing is mostly on the first and second day, after which the interest will definitely die down.
Sometimes that's not true, but it's rare that a meme or trending item will remain on the "best-seller" list for very long — generally 24-48 hours and it's gone from the public mentality.
In the case of "Nut-Job", it isn't likely to go away anytime soon, and there will be refreshing bursts of renewed interest as the Presidential Wrongdoing Case goes limping along in the media.
Frankly, it doesn't matter what goes down, because Donald Trump never gets entirely beaten down — he always rebounds and comes out fighting, like the clever NPC he is.
Non-Player Character is what that means. If you're in the dark about NPCs, it's just that you missed a few hundred of my blogs and dozens of my books, is all.
Thing is, I spend a lot of time on those books and articles, and I'd sure appreciate it if you read them and didn't require me to re-write them every time the subject comes up.
Of course, if it's a memory problem, I'm glad to refresh you on the basics.
An NPC is your basic chat-bot, sometimes with additional powers to grant wishes, provide clues, weapons and upgrades to the character's level, armor or magical powers.
That's pretty much all you can expect from an NPC.
Trigger the NPC again, and you'll get a repeat of the cycle. Trigger it again, and the NPC will return to the top of the code and start all over again.
Interrupt an NPC and it immediately stops, goes back to the top of the code and launches the soundbyte once more as if nothing had happened.
To the NPC, it's always a surprise, every day a new day.
My business model is simple. You need a team that consists of model builder, game level builder, backstory editor, dialogue writer, producer, director, storyboard and layout and animators, lighting technicians, particle experts and, of course, your lead programmer who writes new effects into the game engine.
Of course, you need to make your own game engine, as we did, so you'll own all the rights to the games and their content, including graphics, soundbytes and layout designs.
Hey, we've got that.
Okay, you'll also need someone to take the products out through Cafe Press. That means ads featuring the wide variety of products that are available using just a graphic to launch hundreds of items, including:
T-Shirts, Men's & Women's Clothing, Plus Sizes, Maternity Gear, Dog Fashions, Long Sleeve Shirts, Sweatshirts, Hoodies, Pajamas, Tank Tops, Kids T-Shirts, Kids Baseball Jerseys, Kids Accessories, baby Clothing, Bibs, Baby Blankets, Diaper Bags, Men's Baseball Caps,Men's Jewelry, Men's Scarves, Men's Neck Ties, Men's Designer Watches, Men's Accessories, Drinkware, Mugs, Water Bottles, Custom Art Flasks, Drinking Glasses, Shot Glasses, Acrylic Tumblers, Shower Curtains, Kitchen Accessories, Home Decor, Pillows, Bedding, Office Accessories, Area Rugs, Duvet Covers, Blankets, Hobby Buttons, Stickers, Magnets, License Plate Frames, Car Magnets, Posters, Framed Prints, Wall Decals, Photo on Canvas, Canvas Art, Clocks, Greeting Cards, Note Cards, Invitations, Calendars, Journals, Canvas Tote Bags, Lunch Bags, Messenger Bags, Tote & Shoulder Bags, Phone Cases, iPad Cases & Covers, Laptop Covers, all kinds of things. Here are just a few examples:
Pretty nice, huh? And they are made to order, so you can create a custom watch for a single customer or many watches for many customers, charge however much you want. This was created in less than five minutes time on my part, plus about fifteen minutes refreshing myself on cafe press routines, which I haven't done for more than 10 years now. I have thousands of items up for sale on cafe press, if you're at all interested.
Not bad, eh? And I don't have to pay modeling fees, none of the hassles of manufacturing, none of the hassles of warehousing, and you can sell this out of a shopfront, at a mall or fairground, anywhere — customer pays now, then you deliver by mail. You're merely showcasing the items when you bring them to a street venue. You can sell these easily online on a number of sites including your own.
I have one of these jerseys, and it's as good as any you'll find out there — high quality, good endurance and craftsmanship — double needle tailoring does wonders.
This comes in many sizes, and again is a very well-made garment, 100% ring-spun cotton jersey, the real deal.
This is a terrific gift for that baby shower or BFF gifting when the TIME is drawing near, and you want to memorialize it with a Trump Gag T-shirt.
Wow, a Nut-Job Dog-Tag — there's something you don't see every day. This is not the limit by any means — there are thousands of items that YOU can make yourself with this technique, but remember that nothing sells on cafe press — it's up to YOU to bring the goodies to the public eye, and using slogans and trending phrases will do the trick.
Imagine the kinds of rings YOU could make with this secret! I'll be showing you how to do this step by step at the upcoming Memorial Day Workshop, so be sure to make plans to be there!
See You At The Top!!!
gorby
Comments
comments