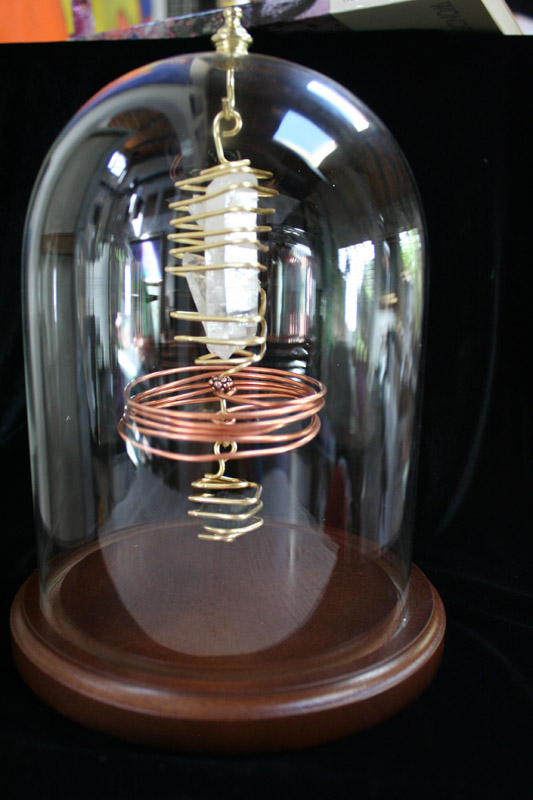 My business depends upon an Afterlife, and Trump is working hard to fulfill my needs in that area. For a flourishing Afterlife, there must be a LOT of business. In the meanwhile, let me inform you of several items you might find of interest in these challenging times:
BUBBLE OF PROTECTION — $125 to $3,500. A VERY powerful CHARGED Meteorite, of varying degrees of impact and origin — $125 to $3,500 depending on type, size & market valuations. Comes to you ready to use, in a genuine handmade oaken base with a genuine hand-blown crystal-glass dome. Approximately 3 1/2″high, 3 1/2″ wide, 3 1/2″ deep. No catalog, these come and go as quickly as in a single day. You need to inquire about available items and/or give a wish-list for various mineral & gemstone properties.
LOVE GENERATOR DOME — $225. A brand-new assembly of powerful shamanic magic and crystal technology to create a zinger of a Love Generator, generating the Force of Love throughout your home. The effect is greatly enhanced by a highly skilled Feng-Shui placement of greenery and a water feature within the home. Send me photos of your space and I'll try to help you fill it with Love Power. Mounted in a beautiful handmade crystal glass & hardwood dome. Guaranteed.
LIVING ROCK CONTACT PORTAL DOME — $350. Works as a direct linkage between yourself and your Guardian Angel. Money Back Guarantee. Warning: This WORKS, so no complaints when it does. Comes in a stunning handmade crystal & hardwood dome & base.
TRUMPENITE DOME — $125 to $3,500. Large, incredibly beautiful raw crystalline mineral specimen of "Trumpenite", a powerfully charged Actual World-Renowned Shamanic Gemstone that you won't believe until you actually SEE it. Must be seen to be appreciated. It has been charged and programmed to repel any Trumpness of any kind, within the boundaries of your household, to include any yard or fenced area, plus your den or garage. Comes to you in a fabulous crystal & hardwood handmade dome & base. Supply EXTREMELY limited.
OSCILLATION OVERTHRUSTER — $225. No, I'm not kidding. This is the Real Deal. You get a plug-in add-on for your SuperBeacon, enabling hands-free REMOTE VIEWING, and this is REMOTE VIEWING MADE EASY! You plug it in, and you're automatically in R-390 RECEIVER MODE. There's no faster or easier way to Remote View than this! You can use it from anywhere within a 90-foot radius, and that includes upstairs and down, basement and garage, so it definitely falls within the realm of your Shaman Shed or Private Meditation Garden, in most cases. Mounted in Crystal Glass Dome on handmade hardwood base.
CIRCLE OF PEACE DOME — $225. Beautiful Specimen-Grade Crystal Quartz set into a RING OF PEACE, mounted within a stunningly handcrafted handblown crystal dome with a hardwood base. It radiates with HARMONIC RESONANCE WAVES, powered by the Big Bang and Population 3 Star Bursts, to give you a 90-foot CIRCLE OF PEACE within your home, garden, garage or anywhere within that radius. Works wonderfully in a medical or dental office, and can be a big boon to any retailer with an unknown crowd.
AKASHIC LIBRARY CONTACT DOME — $225. Learn the secrets the ancients possessed. Direct contact with the Akashic Record Database on the Causal Plane. Anything higher requires a security clearance and a need-to-know and no, I'm not kidding — ask any angel. Comes to you in a handmade crystal glass dome on a hardwood base.
HEALING CRYSTAL DOME — $225 to $3,500 depending on type and valuation of gemstone crystal. Absolutely guaranteed genuine gemstone world-renowned for its healing properties. Comes in a dome with a hardwood base, totally gorgeous!
SUPERPOWER HEALING CRYSTAL DOME — P.O.R. — intended for a Healing Center, this is not for personal use. Comes with an entire Altar Setup, which includes expensive solid gold items and rare antiquities, plus a powerful and very rare gemstone.
SHAMANIC CRYSTAL DOME — If you are an experienced senior student, you may inquire about these items, which are not available to beginners at any price or under any circumstances.
Stay tuned for more… gotta run or I'll be late for class!!!
See You At The Top!!!
gorby