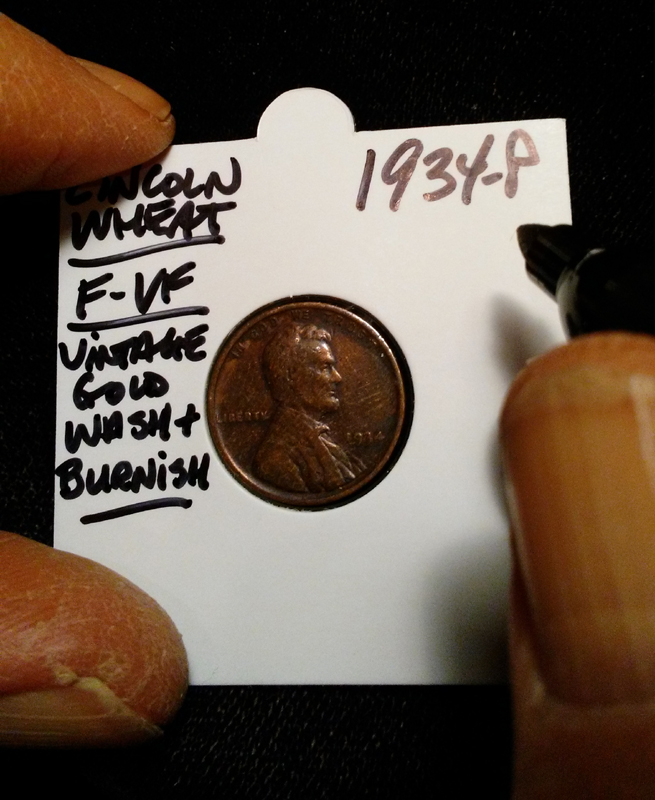 You get the basic building blocks for a Lincoln Set, 1909-1929, which fits into the Littleton Green Folder.
When you've built the collection far enough, it will be transferred over to a Dansco album for resale, minus the key dates, but with all the semi-keys in place, but that's not for now, not until you understand the medium AND the message.
So, here's the rundown — prices are approximate and will vary SLIGHTLY, based on coin condition, but at this level, it hardly matters whether it's a nickel or a dime more or less.
These are the basic coins you'll need to fill in first:
1910 — .50
1911 — .50
1912 — 1.50
1913 — .50
1913-D — 1.50
1914 — .50
1915 — 1.50
1915-D — 1.50
1916 — .50
1916 -D — .50
1916-S — 1.50
1917 — .50
1917-D — 1.00
1917-S — 1.00
1918 — .50
1918-D — .50
1918-S — .50
1919 — .50
1919-D — .50
1919-S — .50
1920 — .50
1920-D — .50
1920-S — .50
1921 — .50
1921-S — 1.50
1923 — .50
1924 — .50
1924-S — 1.50
1925 — .50
1925-D — .50
1925-S — .50
1926 — .50
1926-D — 1.00
1927 — .50
1927-D — .50
1927-S — .50
1928 — .50
1928-D — .50
1928-S — .50
1929 — .50
1929-D — .50
1929-S — .50
Those are what are called "The Commons", meaning that they are well within the "affordable" range of the average collector, about half a dollar to slightly over a dollar per coin — figure about $30 for the whole kaboodle of "commons", in G-4 grade or thereabouts.
Now here's a rundown of LEVEL 2 of the LOW RANGE SEMI-KEYS of the Lincoln '09-29 set:
1909 VDB — 10.00
1909 — 10.00
1910-S — 15.00
1911-D — 5.00
1911-S — 30.00
1912-D — 10.00
1912-S — 15.00
1913-S — 10.00
1914-S — 15.00
1923-S — 5.00
1926-S — 10.00
That's around $150 for those little beauties and, make no mistake, they're hard to come by, relatively speaking. I have thousands of "commons" and only a few tubes of mint-marks.
Here are the SEMI-KEYS:
1911-S — 30.00
1922-D –35.00
1924-D — 35.00
So you can figure around $150 or so to obtain the semi-keys.
And now, the KEYS:
1909-S VDB — 700.00
1909-S — 100.00
1914-D — 200.00
That's $1000 and you'll be lucky to escape that easily, if you get decent and authentic coins. Remember that the key coins are frequently counterfeited, so make sure of your source, and get every key coin certified by a third party, such as NGC or PCGS.
Later on, there will be a few more semi-keys and key dates, but nothing like this first volume.
The other key date you'll want to hold your breath on, is 1931-S, at about $100-$200 if we get lucky. It pays to have a good '31-S, because they're always in demand, and the high grades are important to some collectors, as they will be you you when you are fully initiated in Coinology.
That's the rundown, and as you can easily see, the wholesale price for the complete collection, at a grand total of about $1,500.00 to maybe $1850.00 is easy to double but, of course, if you had to pay retail, you'd be at anywhere from $2850 to $4500, depending on quality and appearance, and it could be much, much more.
Don't forget, this is just the first exercise, a way to introduce yourself to the "field" of Lincoln coins from 1909 to 1929, and it's just the First Initiation.
This is the cheapest and easiest set to build.
You don't have to spend all that money making this collection — however, you'll please take note — I waited until you read this far down, before I mentioned it. Think of it as a sort of spiritual test of your will and determination.
You can assemble the first levels of the set, which would be just the "commons", and it would cost you about $30 plus the folder — another $3.00 — plus the postage, which builds the collection pretty far along, although you will notice the missing semi-key and key coins.
You would next fill in the lower level semi-key coins, maybe just a few at a time, keeping it very affordable and well within budget, for a total of another $150.
You'd then get the Semi-Keys for another $150. At this point, you're in the collection for a grand total of somewhere around $300.
You never have to put the key coins in — they generally reside in a slab outside the album, anyway — the 1909-S VDB is too valuable and too easily counterfeited to trust to a "flip" or a cardboard folder, and not even to a Dansco album, in my opinion.
The 1922 No-D is the other coin you will definitely NOT want to put into the folder or album. It belongs in a third-party graded slab, and should not be accepted under ANY other conditions.
I would never accept a 1922 No-D from anyone, even from a trusted dealer, because there's no way to prove that the coin you have is the coin you bought, and you don't want a customer coming back to you with an ungraded 1922 no-D, not even in a trade.
By the time you get the second leg of the set in the folder, the collection is starting to look pretty good, pretty solid, and when you have all but the KEY coins in place, you can sell the collection as "almost complete", and you'll have a lot of interest in people who want the challenge of completing an "almost complete" set — I'm not entirely sure why, but the market is hot for "almost complete" Lincoln sets.
Don't forget that you can obtain a fantastic WALL ART Lincoln Complete Set in a very, very rare 1938 PREMIUM CARD, which I custom frame in as spectacular manner as I can afford and you can manage to pay for — anywhere from $2850 to $7500, depending on quality of coins.
I have several slabbed high-grades for sale as well, ranging from $500 to $4500, with lots of Early American and Old West coins, Civil War coins and some amazing rarities that you've never even heard of, like Civil War Tokens or Spanish Pirate Treasures — I have many such, in jewelry grade, ready for use, plus a few in collector grades.
Would you like to wear some coin jewelry? You have but to ask. I make custom coin frames and lockets of all sorts, in silver and in 14k gold, although the gold has to be ordered — I don't keep it on hand.
In the gallery, we have hundreds of pieces of JAL jewelry, all waiting to be tried on. I've put an entire magic shop in there as well, and you'll find many art and craft items that can be made right there on the spot, on our Corner Craft Table, also known as the Beta Block Bar.
You're welcome to come into the gallery anytime for a tabletop game, Orb run or a PLS photo session, or to get a lesson on guitar, flute, keyboard or drums.
Featured this week: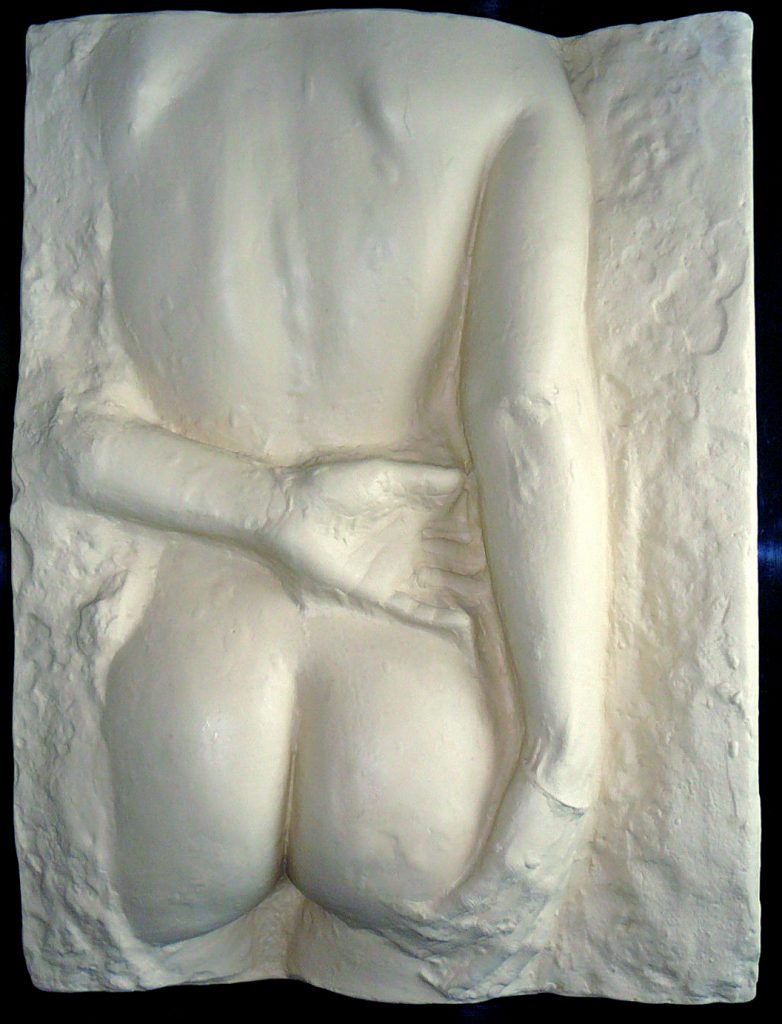 GEORGE SEGAL — "Gazing Woman", From An American Portrait, 1776/1976. Vacuum-formed cast-resin multiple, signed in felt-tip pen and wood framed by me for my personal collection, where it has resided for more than 37 years. Published by my friend Alex Rosenberg, at Trans-World Art, NYC. 36″x19″x4″. Slight mounting error behind the mounting is not visible to the viewer. PROVENANCE: This item was Traded, Recorded and Listed at Sotheby's. Auction House in NYC.
The PRICE is only $2,499.00!!! I can't believe it, but that's the current price, so that's what I'm selling it for today.
What an amazing price for this incredible piece of 1960s POP ART! I used to sell these in Los Angeles and New York for much, much more. I am selling this copy from my personal collection in support of the gallery.
See You At The Top!!!
gorby
Comments
comments