Nobody shops on eBay anymore. Ask anyone under 30, and they'll tell you that IG — Instagram — is the only way to shop, but if you're new to the game, you won't know how to do even the simplest of things, take the easiest and most direct actions. You just won't.
There's no way to learn this stuff except the hard way.
Instagram is your only way out of the hole these days. There is no other way out at the moment, although new tunnels are developing, most of which lie well outside the scope of social media marketing.
Holy Smoke, Look at This!!!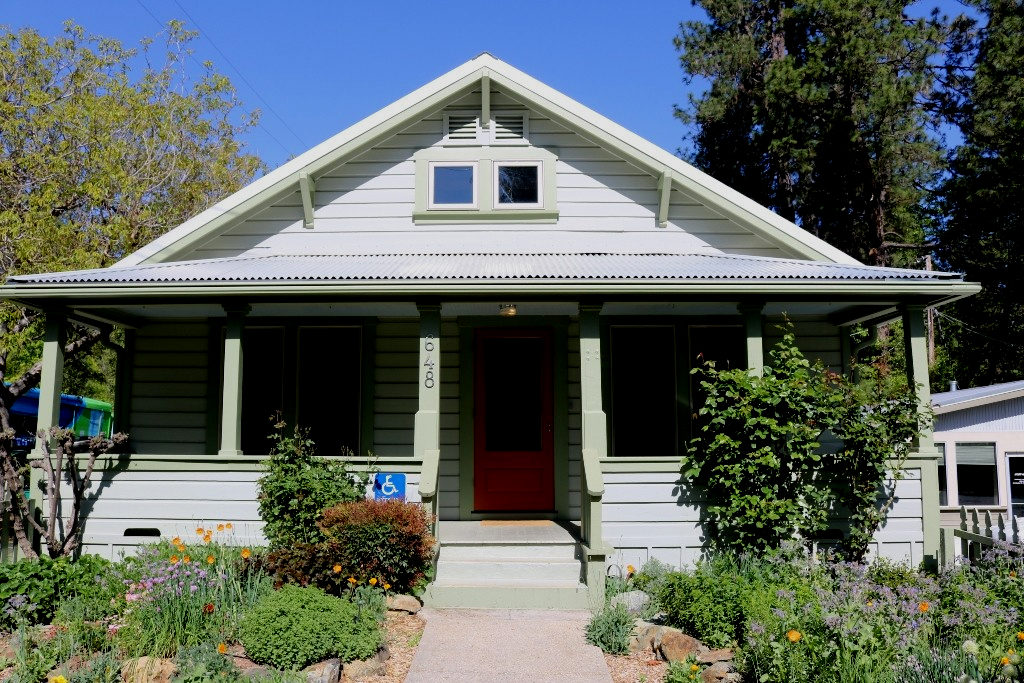 You want a business from which you can sell great food products all over the internet and sell to locals as well? Complete bakery, great licensed commercial kitchen!!!  It's also a perfect location to set up a Farmer's Market. The traffic here is as good as anywhere in town, and it's set up as full-access, lots of parking, great neighbors, it's a combination residence and business all in one package. A Tuff Shed out back would make it easy to live and work here, and a Tiny House out back would make it pure Heaven on Earth.
This complete RESTAURANT AND HOME just came onto the market at an ASKING price of only $375,000 — less than the cost of an average home. I'd be able to put out a whole range of Zombie Family Foods with that — it's already registered and licensed and holds a $300,000 commercial kitchen that was just put in recently. If I had the bucks, I'd be there now. You could load up the walls with expensive original art, so you're not just selling food.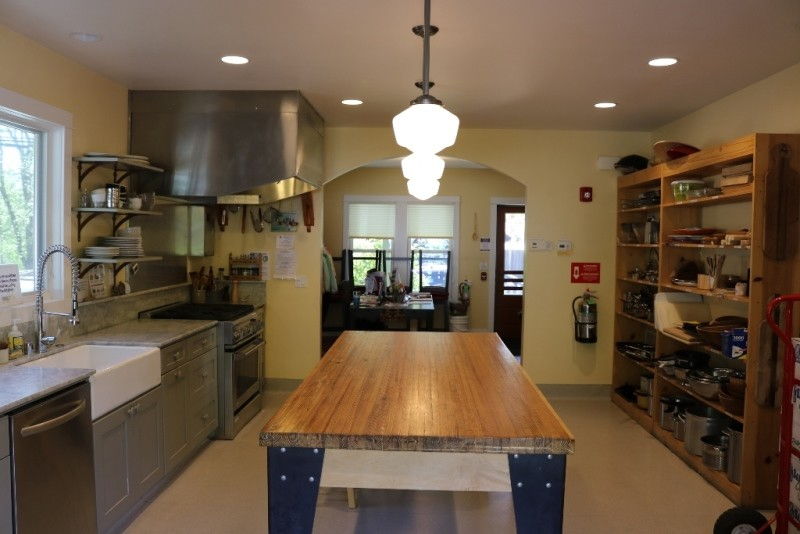 There's lots of potential here, and the location is about as good as it gets — right next to schools and shopping centers. Sigh. Oh, well. As I've said, I know what to do and exactly how to do it, but I haven't the startup capital to get it going. Too bad.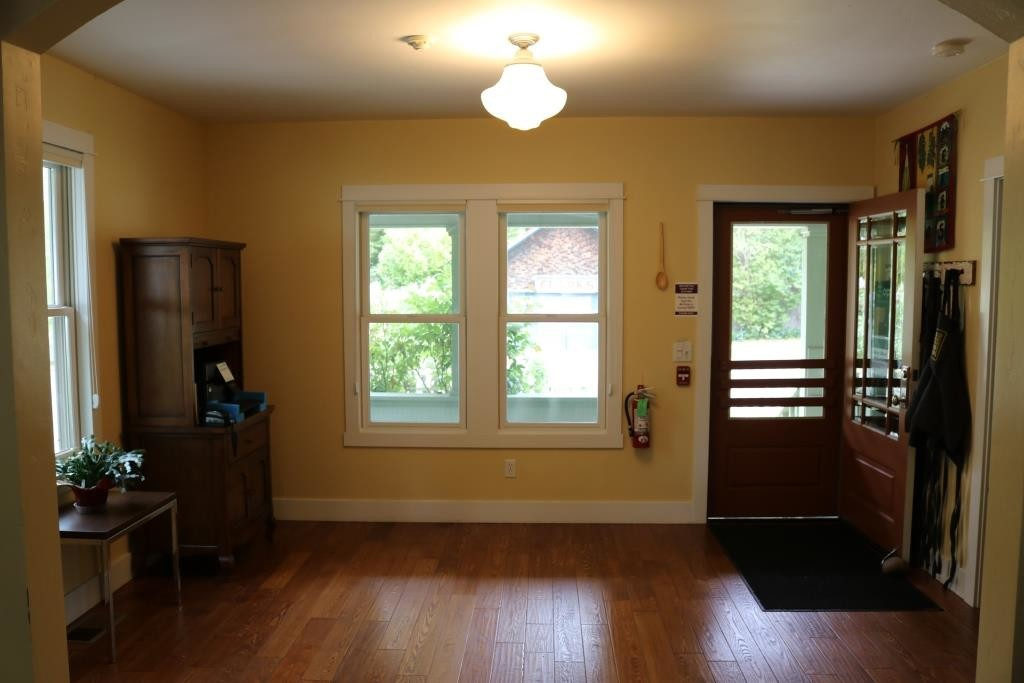 Entrance area shows great wood floors, and you can see the possibilities here for customer seating — the whole place wants redecorating, but that'd be cheap and easy, because the building is sound.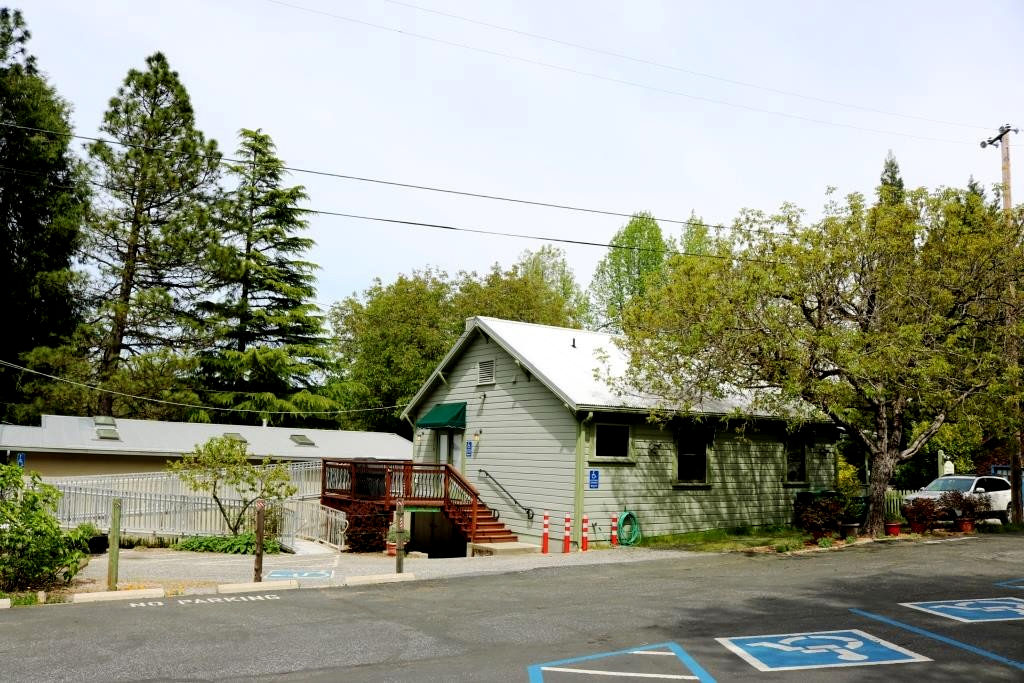 Here's where I'd put in a Tiny House or an RV, plus a "Cash Cow" food wagon to send out to the parks and commercial streets around town. Deliveries of baked goods could be an additional source of income, and there's a shopping mall just a few feet away!!!
PARKING, lots and lots of it, makes this a fantastic place for a SCHOOL!!! Less than a minute away from the largest grade school in the area!
So — never mind making a solid living from a house which is a combination of commercial space and the potential for a private living area in the back.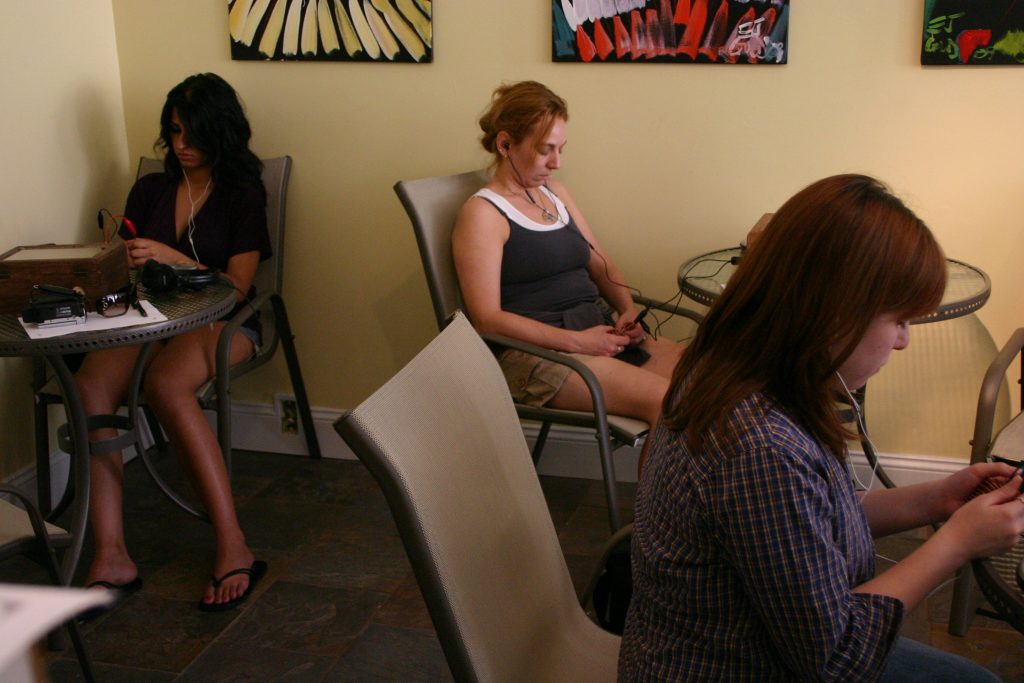 There's plenty of opportunity to make it into a training center where food can be purchased and consumed, not to mention the chance to hold special weekend sales in the parking lot, and more!!!
There's tons of opportunity here, but I have no money, and I haven't the energy to run it by myself. No point, no point. Just carry on, go through the motions.
Forget it.
Let's continue to explore the only FREE option we have in marketing — the internet — and frankly, that's never as free as it seems to be, but in our sad condition we have no other choices beside hitting the street as a busker or hustling spare change.
Sad Situation.
We're stuck with the freebies, but nothing is actually free. We will eventually have to pay robots to do what we don't have the people to do, like do hashtag research and placements, if we get anywhere at all with online marketing, and the odds are heavily set against us.
There is no room for us, never was any room for us, and there never will be a space in which we will be welcome, yet the Work and the Teaching must go on.
Thanks to several RECENT changes in the way that Instagram operates, we can now create an actual storefront on IG, and using the SMM network, we can drive customers to it.
There are some restrictions and care must be taken. The Big Freakout on IG is if you seem to be spamming, even if you emphatically aren't.
How to avoid being tagged a "spammer" by the bots?
It takes professional skills that you don't have and can't afford the time or money to develop, so now what do you do?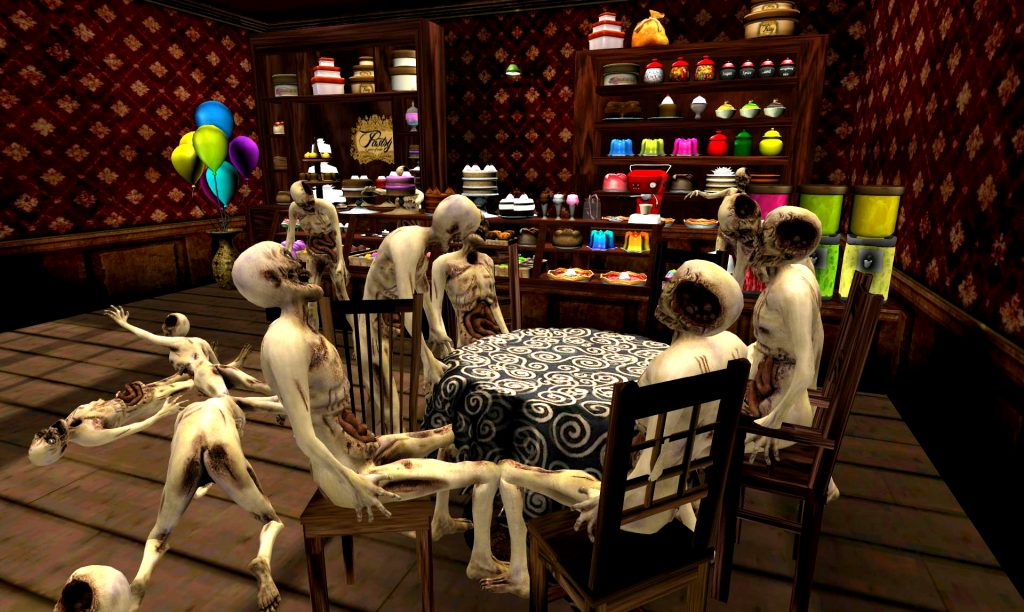 Boxed into a corner? Feeling left behind?
There's a very good reason for that. You didn't grow up with a mobile device in your hand, but there's a phone in everyone's hand now — they don't dare walk more than two feet away from it.
Just because they're slaves to their mobile phone doesn't give you access to their hearts and minds.
What does?
Hard to say. A really brilliant photo might do it one day, and then the next, it's strictly videos that are making the trending scene, and the next minute, nobody's looking at graphics, it's all about sound, then text, then darkscreen.
You can't outguess the "fluke factor", and you'll go nuts trying.
You really need to discover, and soon, what's actually happening in the marketplace today, even if you're not planning to become an entrepreneur, which would be a deadly mistake.
You can find out about this stuff just by reading and watching dozens and dozens of videos and going to tons of workshops and clinics, or you can pay someone to know it and do it.
Either way works for me, but I don't have the money — not a single cent — to spend on promotion — or anything else, for that matter, and I'm sure you're in the same fix. I'm on Social Security, which won't be coming through any longer in just a few months, and my medicare won't pay for anything that's going wrong with my body now.
Like I said, I'm sure you're in the same boat. So what kind of marketing operation can you launch when you're staring poverty in the face?
Damned if I know, but I can't afford to give up, can you?
So I'm left with a "Hail Mary" play — social media marketing — and I have to play it for free. I have no choice. If I had the money to pay a marketing specialist, I'd surely do it, so I can concentrate on the products and services themselves, but I can't.
I don't have marketing people.
If you don't have marketing people, you'll have to have bots. As much as I prefer to work with people doing live action things with information, I know that I will sooner or later have to employ bots, so I want to do it as carefully and responsibly as I can.
All I can hope for with my limited resources is to be able to carry on somehow in my own inimitable fashion, made so by age and growing infirmity, which translates to few sales and few postings if I have to do it all myself, but I do know branding, and that's my best hope.
As a matter of fact, I'm inept with a cell phone — can't manage it with my hands or eyes, so I'm out of luck if I hope to post anything on the internet, and the PC is dead — they'll be entirely gone off the marketplace by the end of the year, and laptops will soon join them in the Land of the Dead.
So let's take a look at Shoppable Posts on IG. They're marked with a shopping bag icon in the top right corner of the mobile app screen.
Users will be able to browse your "shop" feed directly from your IG profile, and if you're a publisher, Linkin.bio might help you to drive customers to your shop — you can send your followers anywhere by linking your IG posts to specific product pages, blog posts and website urls.
How to Get Started Selling on Instagram
You must be located in the United States, Canada, Brazil, U.K., Germany, France, Italy, Spain or Australia in order to qualify under the present conditions and rules.
You need an IG Business Account.
You MUST be on the latest version of the Instagram app on either iOS or Android — it might be possible to run it from a PC with a few tricks.
Your merch has to comply with IG rules and regs, but you knew that already.
Your Business Profile MUST BE connected to a FACEBOOK CATALOG, which can be created and managed on Business Manager, directly on your Business Page on Facebook, or through Shopify or BigCommerce.
If you meet the above requirements, you can simply add the Instagram sales channel to your Shopify or BigCommerce store, which costs nothing.
After your store is approved, you'll want to enable the added business feature by selecting "Shopping" under "Business Settings" in the Instagram app, and then write a story to tell your IG peeps that the store is open for business.
Gosh, there's a LOT more to it than that, and I'm hoping to codify it and present it over a period of time to groups and in instructional videos.
The whole point here is to substitute the IG marketing meetings for the endless philosophical discussions that seem to plague Study Groups everywhere.
The actual merchandising results — which includes marketing of workshops, clinics and lecture-demonstrations — will be the mark of success for every group.
I'm calling the new Study Groups "Marketing Enclaves", which sets the tone for Trump World, and makes us just a little less visible and vulnerable when the spiritual attack comes down the pike, not too long from now.
This is a time to be careful, and to not get in the way of violence, if you can avoid it. Keep the Faith, and Spread the Word of Godd™ Particle Technology!
See You At The Top!!!
gorby