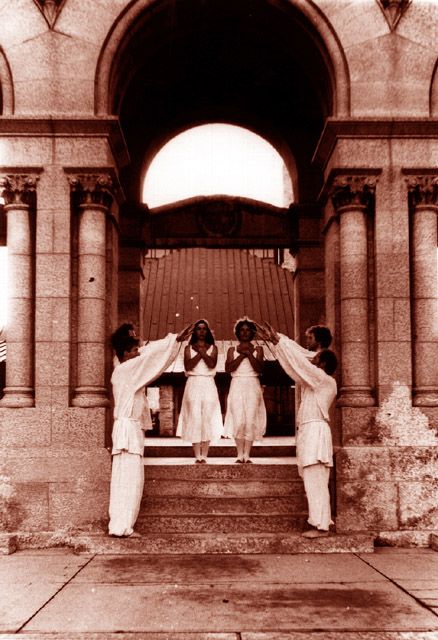 What's the next workshop??? Hmmm… Fair enough question. Here's my written plan for the Summer Solstice Festival, scheduled to begin at 5:30 pm, June 22nd, through until 12:00 noon on Sunday, June the 24th:
FRIDAY SCHEDULE:
Sign-ins and group house accommodations and setup of group-house kitchen. Orientation for all attendees. This is a very different kind of workshop than I've been offering for the past three decades, and you'll need some orientation on how to proceed.
5:30   DINNER at group house.
6:30   LECTURE by staff, on some very different work methods we'll be using.
7:30   FILM — Metropolis — Fritz Lang
Bedtime — get some rest early after traveling and settling in — you'll be getting up early and working hard in the garden!
SATURDAY SCHEDULE:
6:00   BREAKFAST at Gorby's Cafe — special foods prepared by me on my new Wolf Range — our old range finally gave out after 35 years of service!!! — that may prove useful in intense spiritual work conditions:
================================================================
Genuine Faux-Glass of Freshly Squozen Mixed Garden Green Juice or my Special Mixed Fruit Juice. I use 3 Acme and 2 Champion juicers that came out of the original Kung-Fu Restaurant we ran in Bluejay, CA. back in the 1970s.
Objective Omelette-On-Paper, by Gorby, with side of Steamed Fresh Garden Greens, Organic locally grown mushrooms, bell peppers, featuring a special recently invented organic Green Goddess dressing.
Cup of Assorted Nuts — for energy, sure, but mostly for the joke.
Small Dessert — probably something light and refreshing, not sure yet what it will be.

Gorby's Herb Garden Tea, an ergonomic energetic booster that is totally natural and amazingly instant toning and sharpening of the Essential Presence, which is, of course, what you want in a workshop. The tea blend is my own, the herbs come from our garden, of course. You may prefer other teas; we have black tea, green tea and herbals, several different varieties of each, including Earl Grey, English Breakfast, Russian Caravan and just about every commercial herbal tea you can name..
During breakfast, the usual hurried explanations and half-spoken indications will be given.
6:30   THEORY OF PERSONAL EVOLUTION — I'll be giving a rough rundown of the weekend's intent, after which, we'll go into a breakdown of the Work Method we'll be using, with a roadmap of the process, delivered and understood piece by piece.
7:30   MOVEMENTS — I will be giving a personal demonstration of the movements and postures, indicating special attention exercises and inner work along the way, making sure that a modern record of these important points be made, not reconstructed from uncertain memories, as was the entire programme of … oh, don't get me started!!!
8:30   MATRIX — How to program your Personal Matrix, and tie it into today's Amulet of Choice. This is the definitive Co-Axial Method where you place a Coupling Factor between each of the ritual articles in the array; Matrix, Ammy & Super-Beacon. You'll have a hands-on tabletop experience with this, so you'll know exactly how to do it. I am expecting that the long-awaited APP will be ready for us at this time.
9:30   EMOTIONAL MEDITATION — You will be given personal instruction and table-top demos of how to perform the Passing Souls Vigil — additional Passing Souls will be available in my new Atrium Gift Shop.
10:30   HOLLYWOOD FAST-DRAW REINCARNATION AWARENESS & FAT-BURNER COURSE — You will select a six-shooter and holster, and wear them; using these props, you will attempt to regain knowledge of a past life in the Old West, sometime between 1830 and 1899, at the same time, you just might work off a few extra pounds of fatty tissue and firm up a few flat muscles. We'll talk about the  health benefits of daily exercise and how to make yourself do them every day.
Everyone will have a chance at the fast-draw and gun-twirling. You will be amazed at how fast it "comes back" once you actually TOUCH the items and they have that "deja-vu" effect on you.
11:00    DIDGERIDOO FOR APNEA — Sleep apnea and snoring can, according to official releases by the American Medical Association, be effectively treated in some patients by learning circular breathing through mastery of the didgeridoo, which when translated means whatever you actually do as an exercise can only help you if you do it for a long time diligently and well.
We will have a didgeridoo on hand for everyone who attends the workshop. This didgeridoo is YOURS to take home with you! The cost of the didgeridoos has been kept as low as possible to allow everyone who wants one to be able to afford one.
You can pre-order an EJ Gold hand-painted exotic concert-grade perfect-pitch hardwood didgeridoo at $3,500 or you can order a didge directly from http://www.laoutback.com — they have the best! Tell 'em I sent you and they'll give you a deal!!!
Once you "bond" with a didge, you should be the only one playing it. Even if you already have a didge, you will want this special one which I have selected for you! You will paint your own didgeridoo. I will provide all the supplies and materials you need to accomplish this!!!
12:00   LUNCH at Gorby's Cafe. This time you get some homemade icy cold dessert with my secret 89% dark chocolate shavings as a topping.
GARDEN SALAD made by Jewel & staff. You'll be going outside in the very early morning on Sunday, Karma Yoga Day, to help grow some more. Our chicken coop is in need of completion before more chickies arrive!!!
STEAMING HOT CHICKEN VEGGIE SOUP — Mama Jewel's specialty is so delicious, you'll want to bring some home with you!!! (we're looking for someone who wants to use our recipes and restaurant design to make a restaurant happen with these special foods, so if you're interested, speak up, before someone else grabs the opportunity!)
PURE  SPIRIT WATER from "Gorby's Magic Fountain". You may want to take some of this water home with you. Magnetized Magic Fountain Water is also available at — you guessed it, the Atrium Gift Shop, where you'll also find a large selection of Prior Life Triggers and Memorabilia, including wall plaques, framed items and jewelry and fashions of all kinds, the perfect stuff for your next Reincarnation "Come As You Were" Party!
1:00     FOUNTAINS & WATERFALLS — A practical hands-on workshop where you'll learn to design and actually make several fountains and waterfalls as Feng-Shui portals.
3:00     LANDSCAPING FEATURES — How to select plants, create local effects and form an invocational garden with a vortex center. This is one specialty which I shared with Drew, and I'll be passing on some secrets of bamboo guardians, central stones and earthstones, etc. that we developed together over the many years.
4:00     MUSIC — Invocational uses of the HAPI drum, UFO Angelic Calling Drum, Angel Didgeridoo, Alembic and other Udu and Ibo drums, shakers, rattles, rollers and of course the vox humana. Everyone must come equipped with a vox humana so you can participate in the Hootnanny. Look it up in your Funk 'n Wagnall's!!!
6:00     DINNER at Gorby's Club — Gorby's is now decorated for dinner service, with cloth table-covers, fancy plastic dinnerware (I'm not kidding, and it's bloody expensive, but it saves the septic system from over-use) and of course fancy plastic crystalware whine-glasses (you'll be whining that you didn't get any wine, if I'm any judge of character). Music will be provided by a terrible gypsy violinist who will go away only if paid a considerable sum — a million dollars is okay for him, but he's got a partner. Of course you'll get a wonderful homemade chocolate dessert!!!
7:00     GROUP HOUSE — summation of day and rest time.
SUNDAY SCHEDULE:
6:00     BREAKFAST at Gorby's Cafe.
6:30     GORBY'S GARDEN — We're talking about a few hours of back-breaking work in the Zen Garden, where you'll be expected to dig in and help install the remaining sections of the Big Pond; you'll be laying in a ground barrier there. You'll also be asked to uncover the brick paths and fallen tree parts in the meditation area, and there will be an installation of the fountains you built on Saturday. The waterfall and rapids will be torn up and rebuilt with leak-stoppages where needed.
11:30 JUNIOR JIFFY KIT — A short LIVE demo of the Junior Jiffy World-Maker Kit and its potentials, with "Uncle" Claude Needham, Ph.D.
12:00 LUNCHTIME at Gorby's Cafe.
Optional program:
If you are able to remain throughout the day, you will be invited to help finish the projects that need same-day finish-work or to start new projects where possible.
COST OF PROGRAM:
The actual cost you couldn't possibly handle, but what we've come up with is this:
The RA Program Workshop can include your very own APNEA TYPE didgeridoo, your very own bonsai miniature tree, your very own miniature waterfall & pump, your very own wild bird feeder and your very own Zen Garden Secret Center Stone. The cost to use for these items is about $300. You need not take anything home if you prefer; if you intend to take these items home with you, merely add the $300 cost to your total.
Weekend Workshop — a donation for an intense workshop like this of $475 would be very fair in my opinion, considering that most of my friends who do weekend workshop gigs — not comparing quality, just numbers of work-hours and staffing — are asking much, much more for their weekend workshops. Food and lodging are, of course, extra and it's entirely up to you how much of a fling you want to have, food-wise and lodging-wise. My workshop suggested donations are to cover basics — I don't make my living from workshops, not ever.
If you want to take advantage of the five scheduled meals from my kitchen — 2 breakfasts and 2 lunches plus 1 dinner, it is a lot of work for me piled onto the workshop effort itself, but I'll work in there as I'm able, and the cost of meals will be fully covered, I hope, by free-will donations. All costs not covered come out of our food budget for the following week, that's a fact of life here.
There will be a donation box somewhere in the Cafe, and every bit helps defray the costs of all-organic foods, nothing from Mexico ever, nothing from non-organic sources, ever! All our foods are home-grown or local from known gardeners within a distance of five minutes from here. Expensive, yes, but totally worth every penny.
Your general well-being is dependent on good nutrition, good exercise and plenty of personal challenge. We'll be talking a lot about how you can maintain yourself in a work way so you can complete your work this lifetime.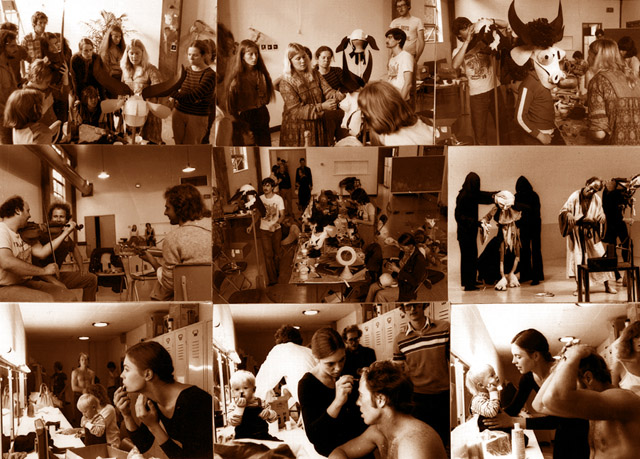 Comments
comments