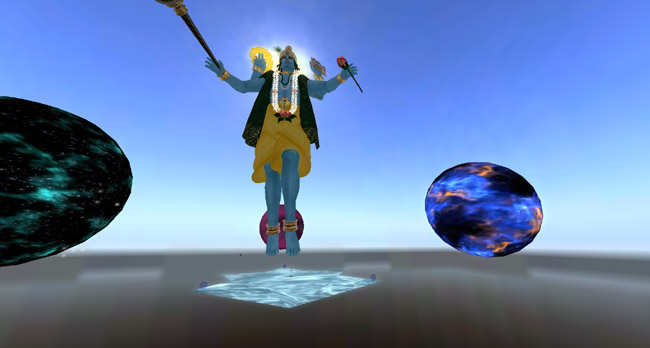 Just a comment on the Shutdown Showdown from Lord Vish… uh, I mean "Ol' GoreBagg":
It's not just the Republicans — everyone is standing their ground, in essence, playing "Chicken" — where you run two jalopy type hot-rod cars at each other, until one turns aside — with our money, our work-lives and our homes and families. The game of "Chicken" always ends badly. Remember Sal Mineo and Steve McQueen in Rebel Without a Cause? The cars always go over the cliff, and at some point somewhere along the line, somebody doesn't make it out the door in time, and this time it's America that failed to jump and is going to go over the cliff. It's already too late to avoid extreme calamity to the lower and middle classes — of course leaving the rich  Senators unscathed and actually financially a bit ahead, because they are in a position to dominate and profit from market downturns, besides outright selling "short". It's far too late to bring back national prosperity and pride, but there should be just enough time to bring the bastards responsible for the destruction of the United States to a fair trial by 10 or more of their peers, with a few million alternate jurors standing in the wings. The thing is, Senators can't be prosecuted for Congressional Malpractice, and that's what should happen but of course, won't. The very, very rich always get away with it, didn't you know? The reason I posted this the night before the deadline is that even with a settlement, the damage is done.
Point of interest; a classic historical factoid from the past — President Truman met with a half dozen nuclear scientists, trying to decide whether to set off, ie; "test", a nuclear weapon back in 1945, at Alamagordo, New Mexico, before dropping two more on Nagasaki and Hiroshima… President Truman asked if it were true that there was a possibility that the explosion could set off a chain reaction, incinerating the entire planet. Nobody knew what a bomb like that could actually do. The six scientists responded as one with the now-classic answer: "Mr. President, we're willing to take that chance!"
Personally, it's no skin off my blue back, I'm immortal and I'm merely a casual visitor, checking in to see if everything's running right, and by golly, it is! From where I live, it's all terribly amusing. I hope you're enjoying this section of history as much as I do. It's my hobby.
See You At The Top!!!
gorby