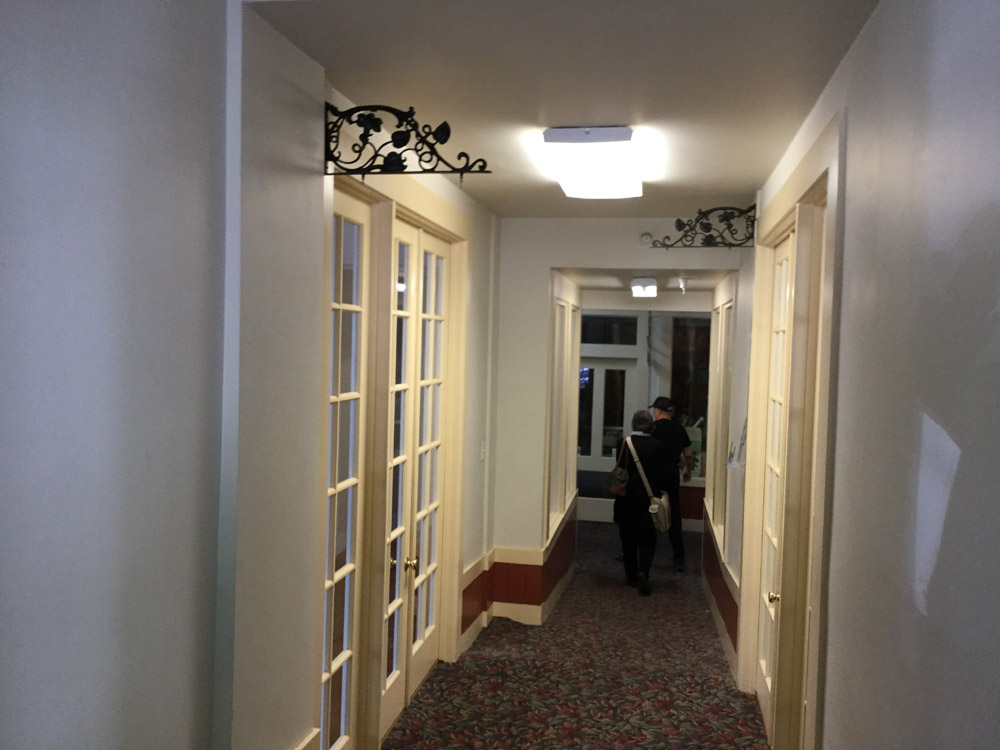 Now that you've joined the Ashram for $30 a month and gotten a place in the gallery — either a cubby at $100 per month or a booth for $200 a month or both — it's time to look at the program.
You are now part of a team.
That team operates in the subtle plane, but manifests clearly and tangibly in the gallery as a group of artists and artisans.
The art varies widely, as does the crafting. Materials and methods are very much unique to each of the experienced artists of our Grass Valley Graphics Group, and that creates a lot of excitement in visitors to our space.
Because we specialize in miniature works of art, our walls are filled with lots of interesting things to see. People tend to stay longer in the gallery precisely because there are so many paintings, drawings, sketches, embossings, earrings, necklaces, bracelets, rings and more, and the longer they linger the more likely they'll shop, meaning you get the sale.
How the support boils down is that whenever we have some surplus, it can be applied to promotion and publicity, but keep in mind that money can't buy you love, and you can quote me on that!
Not even a reasonable facsimile, as some wise-asses are quick to point out. As soon as the fancy clothing comes off, it's just like Kansas.
Money can't buy you love.
Think what that means in the sense of the promotions department. Hey, check it out — you're giving FREE classes and FREE stuff and FREE FREE FREE all over the place to make friends and influence people.
Well not entirely, just influence them "through the shop door" as it were, and if possible, influence them into the sales area, is all I'm asking.
Money doesn't do it in the promotion and publicity biz. What does is recognizing news-worthiness, and that's in itself a four-year course in journalism and marketing.
Fortunately, that's exactly the stuff I used to teach in seminars at the Hilton next to LAX, and thank your lucky stars I don't do that anymore, or it'd cost you $2500 buckaroos for a one-weekend course on how to find doors to knock on and get someone to answer the door or phone.
In short, how to find your customer.
Selling, actual selling, is entirely up to you, and whatever you do with the customer, up to and including cartwheels and dipsy-doodles, will have little or no result on the sale.
The sale will happen just because it will.
The sale isn't made. It happens all by itself, because in point of fact, the artifact — whether it's a Samurai super-sword or a gingham doll on a painted swing — chooses its owner.
I know, it sounds perfectly reasonable, and you always knew it was like that, right?
It's amazing to me how amazing it all is, until, of course, you look closely at the pile of literary rubbish when into that directive in that particular move-act code.
Sometimes the Code is just too stupidly simple, like "breed".
That simple action covers so much ground that you'd have to include everything from Vogue and Cosmopolitan and Playboy all the way to Bungee cords and ripstop nylon, and you'd be running hard to catch up with all the things that relate to that seemingly simple command, "breed".
"Eat" can get so complicated you end up sitting with a date contemplating whether you'd seem cooler if you DID eat oysters raw with a tablespoon of hot sauce, or if you DIDN'T eat oysters at all.
"Sleep" is not as easy as it sounds, unless you're an ape-descendant with a penchant for Gurdjieffian conceptual cosmology and a case of the higher plane "willies".
That's a 1936 terminology for shaking with no apparent cause.
If you tend to shake a lot these days, you probably don't have "the willies". Your shaking is now fully explained without having to go further than today's political news.
So how are we, a group of poor and semi-poor artists, musicians and educators, going to get this to happen?
You — notice the accusative form I've used here, for all you "French 101" fans — need to develop the means and methods of informing the public about events and happenings and good deals and fun classes.
In short, if you write a good story, people will come.
If you can put a compelling argument in front of a lot of people for the support of this grassroots art and craft FREE CLASS program, you might find donations rolling or trickling in, depending on how persuasive your arguments.
Wouldn't it be great to have BOTH a gallery and a classroom? Then visitors could see what the kids have been producing!
I say "kids" as if grownups weren't participating.
That's not true. Classes are not graded, nor do we measure the participants against a wall-mark at 5 feet even.
We currently need:
8 small kid type chairs of a specific type — wood with spoke & crosstop back.
1 low kindergarten style round table for kids & teacher.
4 pieces of 4'x8′ plywood for dividers.
80 linear feet of 2″x2″ douglas fir.
1 gallon "Adobe White" paint for dividers.
At the moment, that's the need. I'll keep you informed as we go and things come up, as they do, when you're feeling your way along a recently-untrodden path.
The plan now is to have shows that bring in the crowds. I'd project that they will probably happen on those aforementioned "dividers".
There really isn't room for another set of dividers in the center of the gallery, in my opinion, or I'd use the side dividers for the local artists and the central dividers for the show, whatever that means.
In one case, it'd be a Chagall show, with which we had good luck in years past. Of course, today, who knows?
I have lined up a Picasso show, a Renoir show, a Degas show and a Leroy Neiman — yes, I'm serious — show. All of those are selling artists, and even though the prints are all originals, we got them at great prices, so they can sell at the low end of the market, and everyone wins!
The problem with using up the center of the gallery for dividers — leaving aside the wall-dividers — is that the center of the gallery might be the only area we can have classes.
I'm hoping we can develop a working studio corner somewhere, but that will really depend on how lucky we get decorating the place with what we happen to have on hand in our storage units.
This whole thing is happening on a shoestring, and don't forget that fact.
We're lucky to even have a chance at this market, and by the way, we'll be out on the street during the Christmas fair here, and I think we'll sell a LOT of our very own brand of hot stuff — "Zombie Family Habanera Hot Sauce" and "Zombie Family Vidalia Onion BBQ Sauce"!!!
There's a shop just down the street that sells only hot sauces, that's it, nothing but.
There's another shop that sells only olive oil & vinegar.
We'll finally be able to bring out our altar and bath salts, and so much more. Hopefully, we'll be able to offer prayer wheels and singing bowls and altar cloths and candles and incenses and oils and prayer-wear as well as prayer-ware.
We're all here to help you to develop ALL the skills you need to transcend organic life, to awaken, and to take your rightful place in the Angelic Hierarchy, which is also known as The Gallery".
When you manifest through the gallery, you are forced to grow, forced to work, forced to awaken, in order to fulfill the post.
It is a real way to work, and a way that YOU can join now. Spots are very limited. Don't be disappointed. Join today!
Here's hoping that everyone in our Work Circle joins the gallery.
It is destined to be The Way You Get Into The School. Only by application of effort and manifestation of spirit can real growth and learning and spiritual evolution take place.
It's not enough to sit and read and talk and watch and think, and double-think, and chat, and consider, and analyze and think some more.
Time to do.
See You At The Top!!!
gorby
Comments
comments