If you click onto nevadacitytours.com, you'll note that the first listing takes you to zazzle, where you'll initially see postcards, views of Nevada City and environs, that I took when I was regaining my walking skills after the second surgery in 2002.
The gallery is well within view here — it's just to the right of the middle of the photo, inside the historic and very haunted New York Hotel. We feature very high-end ORIGINAL art by Chagall, Miro, Picasso, Degas, Manet, Gauguin, Matisse, Rembrandt, van Ostade and many more.
Our first offering will be a very rare and very personal Jasper Johns 0-9 lithograph in colors, pencil-signed and numbered, but the most important aspect of this offering is that it came from Sotheby's and carries with it all the documentation from Sotheby's auction house in New York City.
You'll see at my gallery — and have a chance to buy or help sell — museum-grade art, which could be purchased by an art patron in your hometown, on the public's behalf, then bequeathed to your local art museum. There may be tax benefits to the estate by so doing, but the social and cultural benefits far outweigh personal wealth. This can be a legacy that you can leave for future generations, or help facilitate if you can't buy.
Here's an example: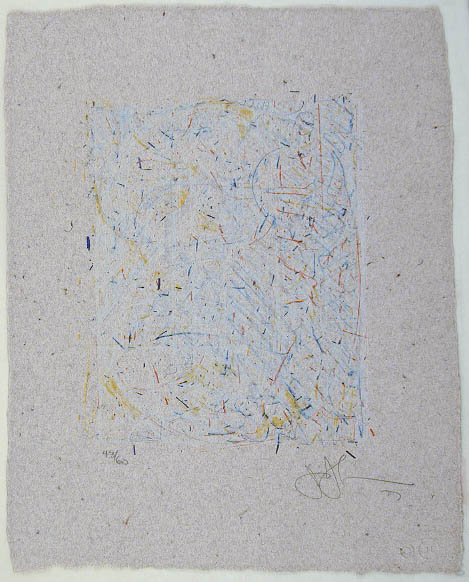 This is a very unusual form of Jasper Johns' zero through nine series; it's pencil-signed and numbered by the artist. It's small, personal, and very, very limited in the edition size. JASPER JOHNS — Zero Through Nine (0-9) — color lithograph — Ca. 1978 — Edition 60 — Signed – Numbered – Dated – C 160×124 – S4 – G 781 – Full Margin — Sotheby New York – 05/13/87 – # 833.
Here's my own auction catalog notations:
U188 — JASPER JOHNS G779 — "0 THROUGH 9" Lithograph in colors on multicolored thread Mariposa paper, 1978, 162mm x 126mm — 6 3/8″ x 4 15/16″.
Full margin with deckled edges all four sides, no tears, no repairs, as issued thus.
Pencil-signed JJohns lower right, pencil-numbered by the artist, 43/60 lower left below image area.
Blindstamped. Ref: Sotheby's New York Auction 11/02/99, LOT #1118.
Listed in Gordon's 2000 catalog, #22869.
My price? I have to research it. It could be anywhere from $9,500 to $45,000, depending on the market for Johns at this time.
Easiest way to find out the current market value  is to call Sotheby's on Monday morning, and ask them how much NYC 5/13/87 catalog #833 would bring today — they are good at customer service, always looking for stuff and buyers for stuff, and that's exactly what I'm going to do.
I might end up consigning it to them for the spring auctions.
As you can easily see, I take more time with the item, examine it more carefully, and document it more fully, than the limited-size blurb they allow themselves in the Sotheby's auction catalog listings, but some would attribute this to the fact that I have entirely too much time on my hands.
Haw, haw, that's a time joke, get it? Time on my hands!!! Haw, haw, haw!
If you don't get it, you need the workshop. Sign up now for the comedy II workshop, happening soon on a video screen near you.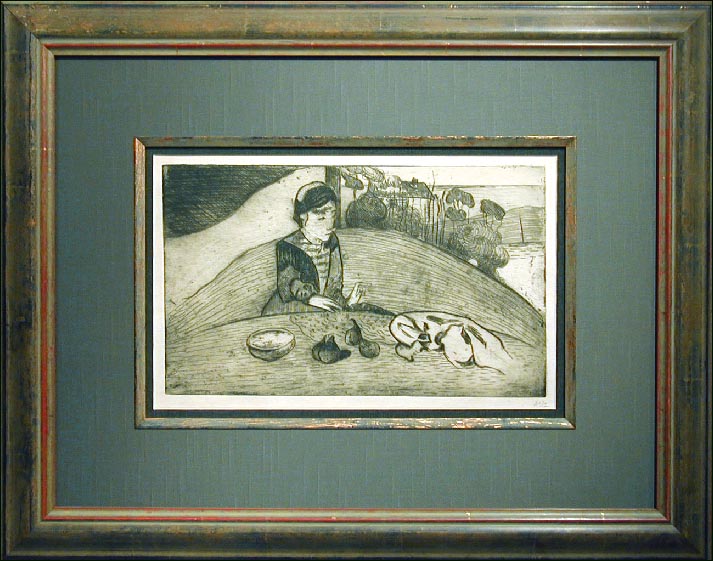 Paul Gauguin — La Femme Aux Figues (Guerin 88; Mongan, Kornfeld, Joachim 31 III/III).
Original etching and aquatint (lavis) on softground zinc, 1899.
First published in the portfolio GERMINAL in an edition of 100 impressions in greenish-gray ink, 268mm x 444mm. This impression is printed in greenish-gray ink and was made at that time.

10 additional impressions were made from the cut plate, which was reduced on the right side, down to 268mm x 418mm, by Madame Delatre, the printer's widow.
She then cancelled the plate by gouging 2 XX in the lower right of the cloth next to the figs, and all subsequent impressions show this cancellation mark clearly.

In 1966, after the plate had been gouged, it was purchased, and many lighter, very imperfect impressions were made from it until the plate finally gave out, producing very gray, murky impressions, lacking the background cross-hatching and much of the drypoint and burin work and giving the work a bad reputation among dealers.
This print is the earlier edition, and is brilliant and fine and in perfect condition, mounted in archival museum frame.
Gauguin loved and produced woodcuts — he hated the etching process, and produced only the one example in his lifetime, and you can bet there's a lot of controversy over that, but the fact that he did the plate-work itself has now been very fully examined and verified, which brought the market valuation of this piece much higher than it had been before the scientific documentation became available.
It now is clear that this is an original work of art by Paul Gauguin, and that it was made by his hand. He never returned to the etching studio after this grueling and annoying experience.
You can easily determine which state this print might be by merely measuring the plate size and looking at the cross-hatching and other drypoint areas on the print, and determining whether the ink is green or black.
At least I can, and I did, and that's how I know what I've got here, and knowing what to look for and where to look comes from experience, not book-learning or lectures.
How much is this thing worth?
Gosh, that depends on so many factors…but the most important factor is the plate size — it happens to be the smaller size, but with no sign of the cancellation, which makes it one of the ten Madame Delatre made for herself.
If I'm right, this impression would be worth well above the $7,500-$14,000 gallery prices realized by the most miserable of washed-out restrikes made in the 1960s.
I would price it in the gallery at $38,500.
Sheer balls? I think not. Just TRY to find another at ANY price!!! You won't, and I'm totally confident that you won't, because they just aren't out there. Not at all.
Let someone say, "but I've seen them cheaper," and I'll have the ready reply, "go ahead and buy it, then."
Sounds just like your local butcher, right? Hey, if they've got it cheaper by the pound, go buy it over there!"
If they don't ACTUALLY SEE the difference in the weak, faded cheap print with the section cut out of it where the strike mark was made, and the finely pulled and well-handled and stored earlier edition, they really don't deserve the very best. They'll be happier with the money than the artwork.
Let's look at a very rare and very important Renoir print in a very early state: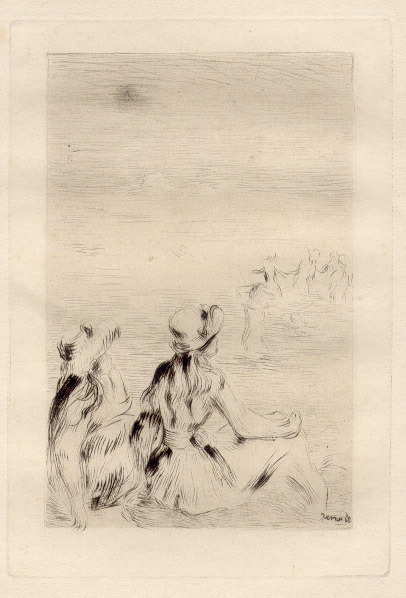 PIERRE-AUGUST RENOIR — SUR LA PLAGE, A BERNEVAL — First State before the plate was reduced —  plate size 180mm x 140mm.
VERY RARE in First State, with bather in the right middle portion of the water, just beside the major figures in the composition.
The bather is significantly missing in the 2nd and 3rd States, thus firmly identifying this impression as belonging to the 1st State.
Strong drypoint and burr on hair, under hat of right figure and on front and back of crown of hat on left figure and on bather in water indicate a VERY EARLY impression in the First State, extremely rare thus.
SIGNED Renoir lower right, about 1.5mm above plate edge.
FULL MARGIN on untrimmed paper, with original binding evident on left, with remnants of original binding thread lower left.
A very important early impression of a major work, seldom seen on the open market, and definitely a candidate for museum donation either now or later.
My gallery price-tag on this is $38,500, but I have others far less expensive if you don't care about the rarity factor.
Still with me? Of course you are, or you wouldn't be reading this. Let's look at one more example of what I might offer at a fine art charity auction: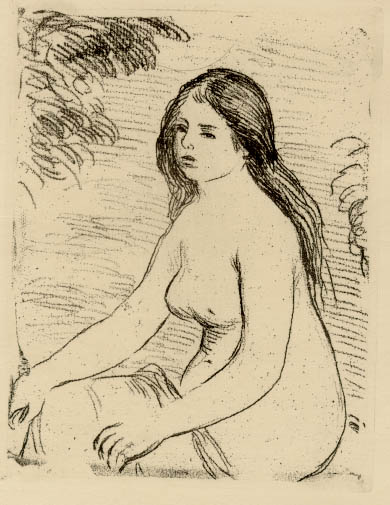 PIERRE-AUGUST RENOIR — FEMME NU ASSISE — Stella 12 — Softground etching, about 1906, Only State. 188mm x 149mm on full margin stock, 195mm x 256mm FROM THE FIRST EDITION.
This softground etching was produced in Theodore Duret, L'Histoire des Peintres Impressionistes, Paris, Floury, 1906, facing page 106.
The original foolscap separator with title comes with this RARE etching. Impressions were on HOLLAND paper (this is one of those) and a small number were printed in sanguine ink on Japan Paper for the Deluxe Edition.
This is the EARLIER EDITION. It was later republished and bound-in to another book, Die Impressionisten, Theodore Duret, Berlin, B. Casirer, in 1909, but this is not that later edition.
RARE thus, Provenance, Theodore Donson.
My gallery tag on this is $38,500, but I might bring that up significantly, because there are no early impressions out there, just 1909 edition material, plus the usual grotesque restrikes made from the tired, well-worn — but still existing — etching plate at the Louvre in Paris. This is no restrike, no 1909 later edition.
This is the real thing, museum-grade, not at all available to the general public.
Okay, just one more Renoir, okay???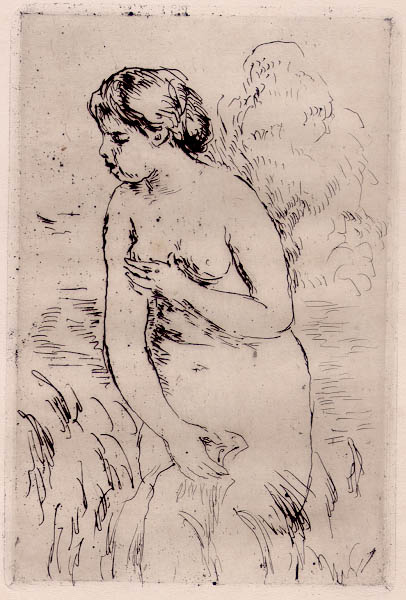 PIERRE-AUGUST RENOIR — BAIGNEUSE DEBOUT A MI-JAMBES. Etching, about 1910. Only State. 168mm x 112mm.
Published by Theodore Duret and bound-in to Manet & the French Impressionists, London, G. Richards, 1910; then in Theodore Duret, L'Histoire des peintres impressionistes, 2nd Edition, Paris, Floury, 1919m facing page 96; finally in the 3rd edition of the same book by Duret.
There do exist much later posthumous "restrikes" of this etching in limited editions.
This is a very EARLY STATE with FRESH DRYPOINT, heavy burr and INKY EDGES around the border, thus indicating an early place in the run, EXTREMELY RARE THUS.
Book binding and tissue are visible on the left edge of paper, uncut margins indicate specifically the 1910 edition — the earlier printing.
The STRONG TONING on the plate indicates an earlier example from the First State just after the first PROOFS.
Provenance, collection of Theodore Donson.
My gallery tag says $38,500, but that was placed on there some 25 years ago. If you buy it today, I will honor that original gallery tag.
My guess is that, in light of the fact that it is demonstrably an early state of the earlier state, the market price could be whallopingly higher.
You'll note that all my Renoir etchings and lithographs are LIFETIME, never postumous!
Mercy, there's a world of difference!
Your indulgence, please. One more delicious Renoir Original for your delight.
Please note the greenish color of the paper in the photo above, and also note that original oils, watercolors, sculptures, drawings and charcoals by any of these artists I've presented here would cost typically in the millions of dollars.
Only by collecting works on paper, especially small editions of multiple signed prints, is affordable by any normal standards.
If you're an abnormally wealthy collector, I do happen to have some interesting items, but you'll have to call ahead for an appointment.
Here's the most amazing Renoir original work on paper you'll ever be offered: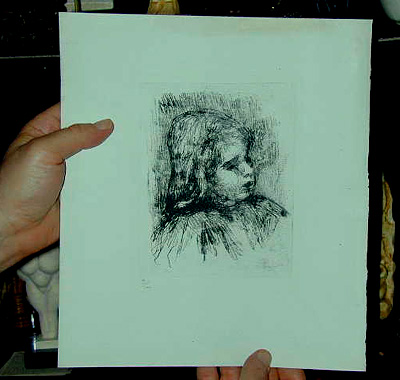 PIERRE-AUGUST RENOIR — Stella 18 — CLAUDE RENOIR, DE TROIS-QUARTS A DROITE, 1908 — OF THE UTMOST RARITY, POSSIBLY UNIQUE.
Softground etching, 1908, 162mm x 130mm to the platemark on 257mm x 294mm GREEN TINTED Holland Paper watermarked "D & C Blaucw" with the typical ornamental design within, some slight discoloration at the top right, due to age; no tears, no repairs, as issued thus. Two States in an edition of 100, most of which have been lost.
PENCIL NUMBERED BY THE ARTIST, 9/100.
A LIFETIME IMPRESSION, not stamp-signed by his sons following his death, as was typical of many of the surviving studio prints, some of which were below standard.
This is a fine, rich impression on a very unusual paper, and therefore rare and possibly unique.
This study of Renoir's younger son Claude was originally a pencil-sketch made sometime in the summer of 1908, then a few months later, translated into the etching plate as we see it here.
Only a very few proofs were pulled at this time, immediately following Renoir's visit to his painter friend Victor Roux-Champion.
At the end of Renoir's life, a few impressions were pulled just to test the plate; then in 1923 or 1924 a full edition of 100 was printed and acquired by the famous French art dealer, Sagot.
These impressions are numbered in two groups of 50, on different papers, usually a wove stock, never on green paper.
This example is not wove, but laid. All impressions of this plate are now extremely rare, but this one — numbered 9/100 — is extraordinarily unique, quite possibly the only one of its kind in the world.
THIS IS THE ONLY KNOWN SURVIVING IMPRESSION ON GREEN HOLLAND PAPER.
Garrec records only ONE similar impression on Green Holland, numbered 1/100, but it was reportedly lost in the fire-bombing of Dresden during World War II.
PROVENANCE: From the Collection of Theodore Donson.
My price? It's gallery-tagged at $138,500, far below what you'd have to pay for any other AUTHENTICATED Renoir UNIQUE on the marketplace today.
It may have a companion somewhere on the planet, but nobody knows where it might be today, so there is NO chance anyone else will have one. That makes it unique and very very collectible and very desirable, especially for the collector who wants to make a big splash with a donation to a museum, and what museum wouldn't want this unique example of Renoir's art?
Anyone acquiring this would have a very desirable potential museum donation that could have lots of publicity around it, if it were played right, block-buster style.
Why am I offering these wonderful and irreplaceable art objects?
Actually, I'm not.
The secret is that they're my loss-leaders, acquired over the past 55 years judiciously and carefully, to lend authority, credibility and interest to my fine art galleries (I've had several, along with 6 successful restaurants) and auctions, and I've never had a return of anything I've sold in the fine art field yet.
Why?
I make damn sure of my ground before I stand on it and defend it. My real use for these "Million-Dollar Loss-Leaders" is to bring folks to the auction, where they'll learn about the artists and get a good, deep glimpse into the world of art history — they will be amused, interested and delighted at what they hear. I tell stories about the artists, jokes related to art, and more.
90% of our auction and gallery sales tend to be of local artists, our own folks, generating original works of art on paper, canvas, metal, wood and glass.
They come in for the Big Names, but end up buying local.
The Blue Chip Art is there to tickle, amaze and astound, not to sell.
Think about it.
If I sell my ONLY PAUL GAUGUIN ORIGINAL ETCHING, what am I going to do to get his name back into my auctions?
I would have to settle on, and buy at a horrible cost, a Gauguin woodcut, because this totally rare etching simply does not exist on the market today.
Gauguin woodcuts are very expensive, but my complaint isn't the money, it's merely that everyone has them — they're far too plentiful on the open market for my taste, but I have a few that aren't common, and those are the ones I offer.
I don't want ordinary art.
What I want is "P.T. Barnum Appeal", meaning a sexy, exciting, even thrilling art discovery, and the fact that it's for sale to the highest bidder is equally amazing, astounding and thrilling wonder!
So come and watch the fun this coming month at our new gallery. You don't have to bid or even make an offer on the gallery floor.
Watch, listen and learn.
See You At The Top!!!
gorby
Comments
comments