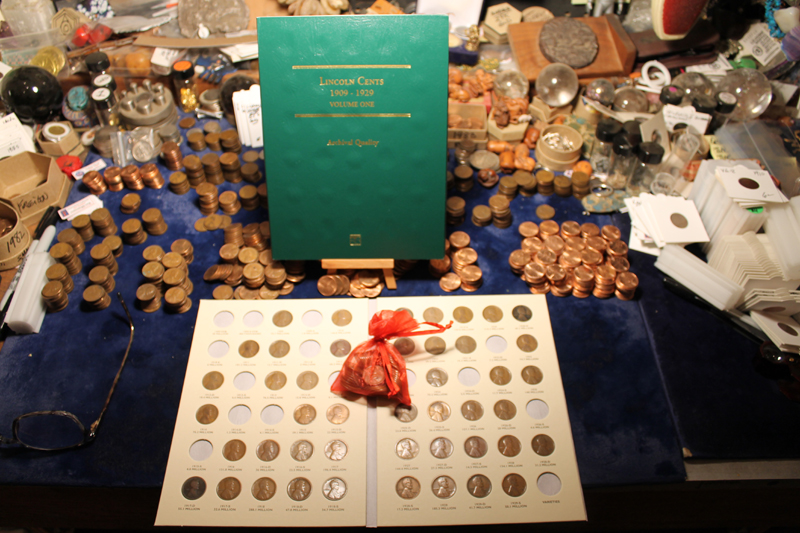 Okay, you have a bag of "wheaties", which means a bag of Lincoln Wheat-Ear Back One Cent pieces from one of three U.S. mints — Philadelphia, Denver and San Francisco.
Of the three, you could always count on the mint in San Francisco to develop lots of mint errors, notably involving the mint-mark.
In the Philadelphia coins, there are no mint-marks, but on the other hand, there are lots of opportunities to strike it rich with DDOs, which is to say, "Doubled-Die Obverse" errors, which means that the die got struck twice during the creation of the die from the HUB — it's all very complicated, but you can find out about the process by reading the Mega Red coin book, which I think you'll find surprisingly good reading, if you're at all interested in the history of the coins and the mints that made them AND the horses they rode in on!
You're dealing here with circulation coins, not special coins issued by the mint to make money for the politicians, such as the "proof sets" and "eagles" and special issue "collectible" gold coins, and other equally miserable excuses for collectibles.
If you mark something as "collectible" and everybody collects them and keeps them totally intact and pristine and mint-condition, guess what? They're not collectible at all, because scarcity is a powerful driver in the collectibles market, and that's just not there when everybody has one. Continue reading →