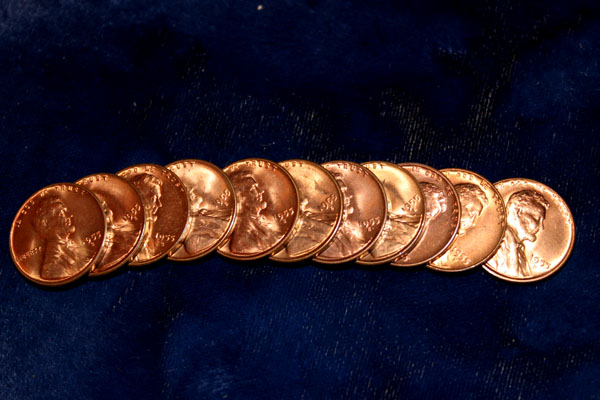 Here's a rundown of what specific actions I take with a new bag or box or roll of wheaties to be searched. It's basic, and of course doesn't contain "The Moves", which are derived from Magic in the Mirror — MiM — in order to handle the coins efficiently and effectively. I'll assume that the coins are already separated out into decades. If not, they'll have to be separated out before beginning a search, because you can only compare coins with other coins of the same decade, when grading, or you'll get entirely baffled by the sudden changes in quality, so the general rule is ALWAYS SEARCH BY DECADE.
So, you've got a bag of TEENS, TWENTIES, THIRTIES, FORTIES or FIFTIES coins. Let's begin a search on them. Put the bag nearby on the floor or on a very strong table.
FIRST ACTION — Open the bag.
SECOND ACTION — Reach into the bag and scoop out a handful of coins.
THIRD ACTION — Place the handful of coins on your right on the velvet search pad.
FOURTH ACTION — Put on your Opti-Visors. I use #7, fairly strong ones, these days.
FIFTH ACTION — Arrange the pile of coins on your right into piles of about 10 coins each.
SIXTH ACTION — Take the first pile of ten coins and FAN or SPREAD them out in front of you where the light hits them perfectly, so you can see every detail.
SEVENTH ACTION — FLIP or TURN OVER the coins so they all face downward, wheats up.
EIGHTH ACTION — FLIP your Opti-Visor down so you can see the coin's surface through them clearly and easily, and CHECK THE COINS for any sign of "quality", meaning that there are some lines still in the wheat ears. You want to take out anything that isn't TOTALLY FLAT — absolutely every sign of value or quality.
NINTH ACTION — Place any GRADABLE coin FACE DOWN, WHEATS UP, on the velvlet pad, to your LEFT, in a separate pile.
TENTH ACTION — FLIP the remaining coins in the spread FACE UP, to reveal the date and mint mark, if there is a mint-mark. Remember that coins produced at the Philadelphia Mint never carry a "p" mint mark, although in other denominations there are exceptions to this rule, notably the wartime nickel.
ELEVENTH ACTION — PLACE the coins in the correct piles, starting with the lowest date on the left. All mint-mark coins should be stacked FACE UP in the far center, slightly to the right, building stacks of about 15 coins.
TWELFTH ACTION — Scoop up the stacks of coins into tubes and label each tube as you fill and cap it.
Now all that remains is to store the tubes in boxes until they are needed. I'll now do a step-by-step rundown on how to handle the coins from search to sale: Continue reading →