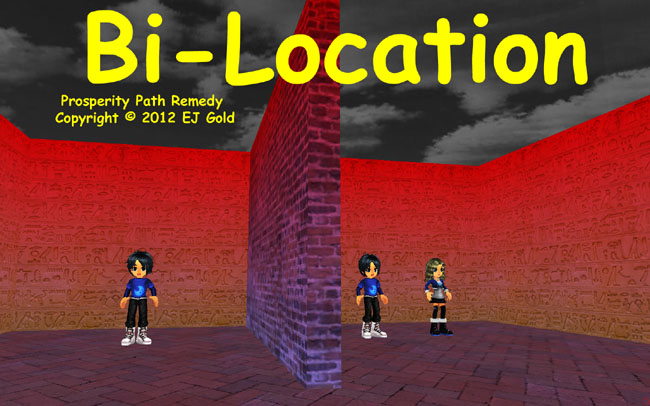 Bilocation is really very simple to understand and, with the Prosperity Path system, even easier to use and master. Matter that is unobserved acts as a wave. Once its speed or location is known, it behaves like a particle, and if it's ever, ever going to be under observation, it behaves like a particle even before the observation begins. Secondly, matter that is unobserved and acting like a wave can be in several very separate and distant places at once without losing its identity. So long as you remain unobserved and unmeasured, you can do the same, and I can prove it to you in a matter of minutes, and will, at the next Prosperity Path Convention, Labor Day Weekend upcoming. Now, Bilocation is your friend, your ally…I'll explain further how it works…
To begin with, everything is connected, a Unified Field, as it were. Within this field certain "somethings", not particles, not waves, not wavicles, just stuff, gets connected spookily, meaning that they get ganged together totally disregarding distance — it can easily be many billions of light-years or a fraction of an inch, but ganged together they are!
There are currently tons of television programs about this, because it's been in the news so often lately — especially the part about finding the so-called "God Particle" with the Hadron Collider. You can find out all about it on your own, but you might want to check out the tv program "Through the Wormhole", especially Season 3, which has a terrific scientific rundown on Parallel Worlds and Spooky Action At A Distance (SAAAD Effect).
Okay, so that having been said, now try to understand this:
Any number times infinity is an infinite number, the same as infinity.
What that means to you is that if there's one of "you" anywhere, then there's an infinite number of "you" in an infinite number of parallel worlds. Get it?
So what does that really mean?
It means that you already exist anywhere that you could possibly go. All it takes is Bilocation to get there.
But how do you Bi-Locate?
Up until very recently, you couldn't. At least not without years of training and discipline to acquire the skill and the facility with the experience of Bi-Locating.
Now with Prosperity Path, anyone can Bi-Locate the first time they ever try.
"BUT…BUT…BUT…HOW DOES IT WORK?" I hear you ask.
No one really knows, at least not yet. Well, science doesn't know. Actually, a few mystics do know what happens and how it works, and I'm one of them, and I don't mind telling you, so you'll know how it works, too.
You don't have to do anything to Bi-Locate. Like I said, you're already there. All you need to do is to locate yourself in the parallel world of your choice and move your attention to that world, realize that you're in both places at once, select where you would rather be,  and wham-Shazam! There you are!
Bi-Locate, Uni-Locate. Bi-Locate, Uni-Locate. Try it, you'll like it.
The real secret about any travel or vacation is not whether you take a plane, a train, a bus or a car; it's all about first deciding where you want to go.
And that's what the Labor Day Prosperity Path Convention will be all about.
See You At The Top!!!
– gorby
Comments
comments