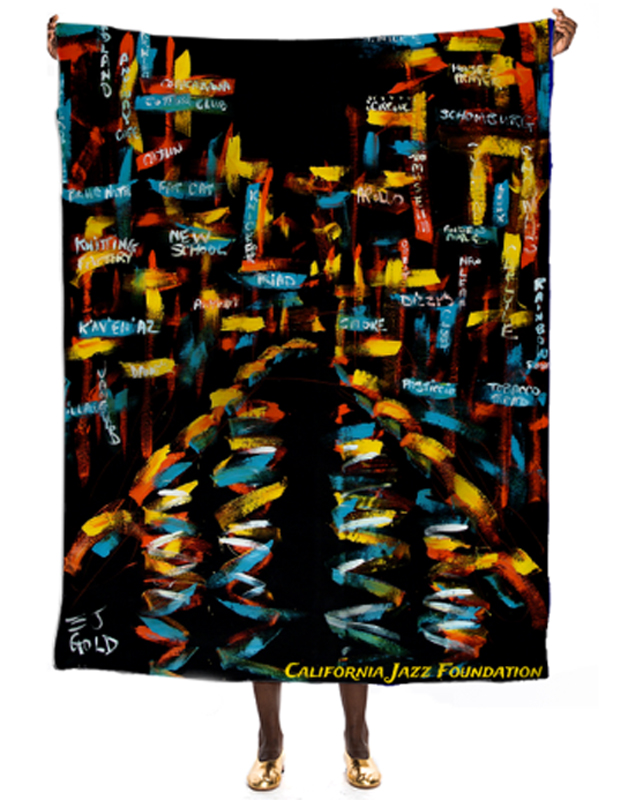 This is the original CJF silk scarf design, but it's now on a giant silk scarf that's bigger than YOU are! I'm not entirely sure it's a good idea to have a scarf that's bigger than the average Volkswagen, but hey, a LOT of folks wanted them, so much so that we sold out the original printing within a few days of issue.
These are new, and they are printed in infusion technology, so the ink is in the fibers, not resting photographically on top of the fabric. This would not have been possible just a few years ago.
You have a choice of California Jazz Foundation — a portion of the sale goes to them.  It's an absolute collectible and a bargain at only $450 and it's for charity! On top of that, you get a collectible that's part of the great history of jazz. There are some less expensive silk scarves and other items below, so read on!
Did you know that jazz is the only truly American musical art-form? It's true, and that's the reason jazz is part of the high school and college curriculum in every state in the Union.
I also put the same image up on redbubble — I'll show you what the artwork looks like relative to some furniture.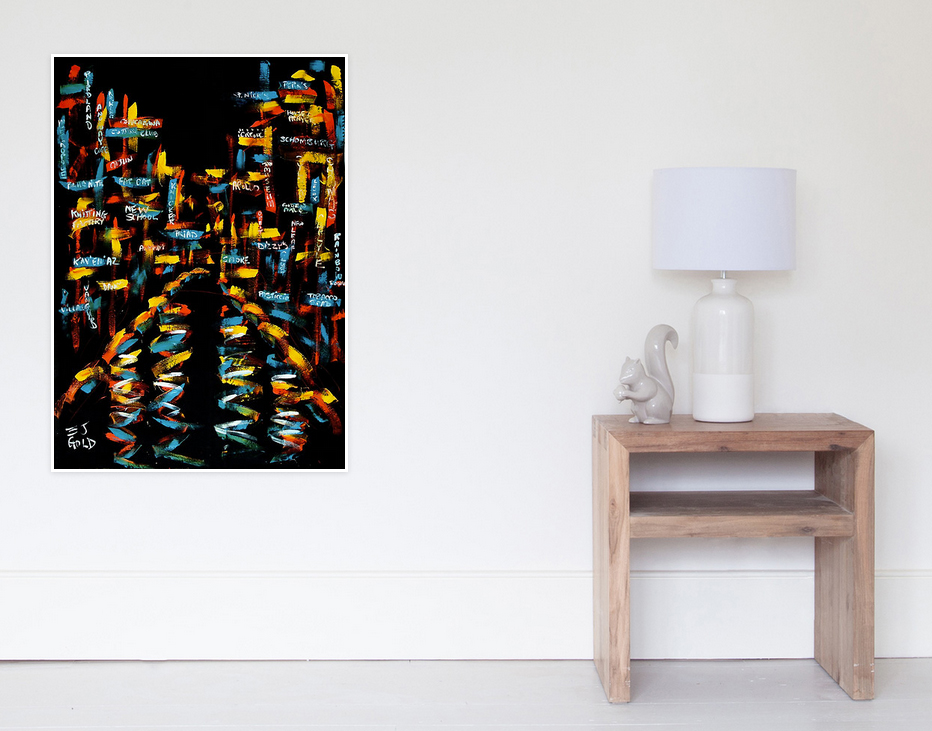 Prints range all the way from about $20 to $500 for a huge metal print, the likes of which would knock the socks off any city-dweller with a condo to fill up with coolness. Metal prints sort of "glow" of their own accord — some sort of light-handling that makes them very desirable to the quantum mechanic.
You can customize your framed prints on redbubble, in a number of ways. You can change the size of the print all the way up to 16″x20″, which is a pretty good size for the average home.
You can also change the mat board and frame type. I took the above configuration and changed it thusly:
In all, there are quite a few variants for you to play around with, and you can decide which frame style and which mat best suits your decorating mood today.
You can pick up this tri-blend for a measly $45 bucks from my redbubble store — you'll find it easy to locate, but you might want to bookmark it for fast reference. Oh, don't expect ME to give you the link. The First Initiation is: "Can you find your way in the dark?".
Again, light-handling is vital for the tiny substrata surface nanoweather, which is basically driven by how photons are reflected, refracted and absorbed by the garment, which serves as a "skin" of information on the 3-dimensional object, ie; the model.
How about this contrast tank for only $53.34? That's the sale price — you save $50! This would make a great fundraiser item at a jazz event, don't you think?
Would you believe you could get this dress for only $76.66??? It's true, and it's ON SALE — you save $75!!! You want to be noticed? You want dramatic? Try wearing this to a party sometime! By the way, it does wonderfully strange things under stage lights, which is what it was designed to be — a jazz performance backdrop!
This is silk, and it's a full 55″x55″ for only — get this– $43.34!!! Wow, can you beat that? It's not fake silk, it's the real thing, but hurry, this sale is only good while they last! You save $60 on this $100 best-selling silk scarf, originally designed for IAJE and the California Jazz Association!
This throw pillow is only $46.66 — they're best in groups, but it's your call. If you have a lot of solids around, particularly muted tones, you might think of putting these here and there as "accent" — there's nothing quite like accessorizing a room to really pull the "look" together.
I think I'd be inclined to carry this bag around town — it's a measly $50 bucks, just about two hours' worth of hanging around Starbuck's, or a split-second at the gaming tables in Las Vegas or Atlantic City.
These are all on LeslieAnn's Fashions on redbubble — CLICK HERE TO SEE — and I've got tons more stuff going up all the time, so keep on the lookout for new things.
See You At The Top!!!
gorby
Comments
comments